Webinar: Understanding Depression
One in four Canadians will experience depression at some point in their lives. Depression causes difficulty in academic, social, and academic work along with symptoms like low mood, lack of interest or desire, lack of focus, disturbed sleep and food patterns, hopelessness, guilt, and separation from loved ones. A person's perception and feelings about herself and others around her are impacted by the mental health disorder known as depression. Major Depressive Disorder and Seasonal Affective Disorder (SAD) are two examples. Additionally, depression is a significant component of bipolar disorders, post-stroke, and traumatic brain injury states that need to be treated.
Some common symptoms of Depression include:
Extreme hopelessness and sadness.
Refusal to desire to interact or socialize with people.
being unable or unwilling to leave the house due to a severe depressive episode or a severe manic episode.
Having substance abuse, issues with drugs or alcohol.
Suicidal thoughts or behavior.
A mood disorder is a mental illness that affects how a person perceives and feels about themselves and those around them. Bipolar Disorder, Major Depressive Disorder, Seasonal Affective Disorder (SAD), Dysthymia (a chronic form of depression), and Depression are a few examples of mood disorders.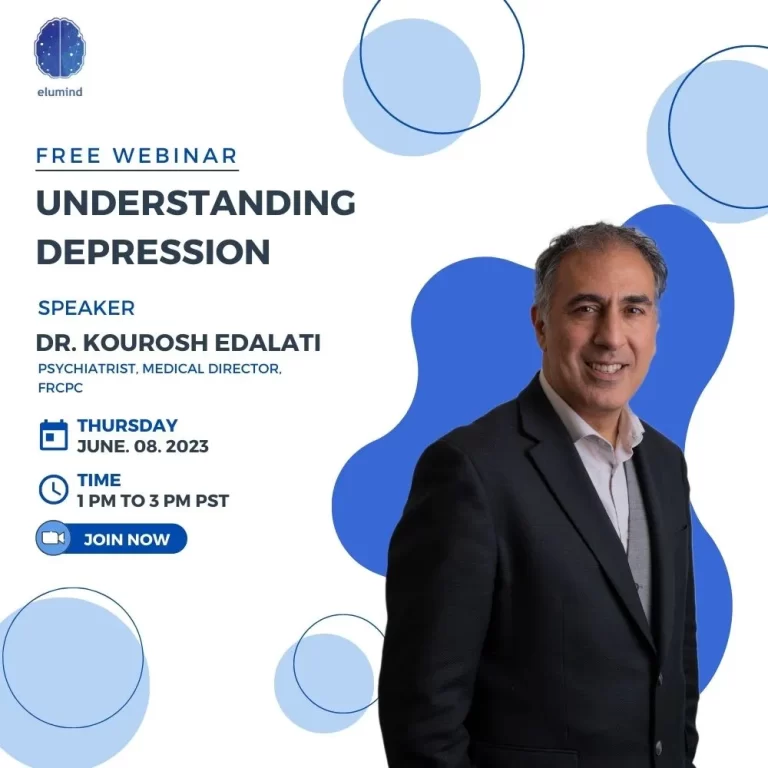 Enriching our knowledge of Depression diagnosis, of the myths associated with it.

Creating the habits that support a healthy lifestyle.

Type of Depression, Signs, and Symptoms

Learning relieve techniques for Depression.

Treatment options for Depression.
Dr. Kourosh Edalati founded Elumind to take brain health and therefore the health of the body to a whole new level with the vision of changing the way we live our lives forever. He is a psychiatry graduate from the University of British Columbia. He works in private practice working with a variety of mental health conditions.  Additionally, he worked at BC Children's Hospital in the Child and Family Clinic specializing in PTSD in children and adolescents. Dr. Edalati is also a clinical instructor for the department of psychiatry at the University of British Columbia.
He has completed all courses in Functional Medicine through the Institute of Functional Medicine and has been practicing integrative mental health using Functional Medicine principles. These are advanced courses in gastrointestinal health, detoxification, cardiometabolic health, immune system, hormonal balance, and finally bioenergetics. He is board certified in clinical hypnosis and is an active member of the board of the BC Clinical Society of Hypnosis.