Webinar: Understanding ADHD
ADHD stands for Attention-Deficit/Hyperactivity Disorder, which is a neurodevelopmental disorder that affects both children and adults. Individuals with ADHD may have difficulty with attention, hyperactivity, and impulsivity, which can impact their daily functioning.
Some common symptoms of ADHD include:
Difficulty paying attention to details or following instructions
Forgetfulness
Fidgeting or restlessness
Interrupting others or blurting out answers
Difficulty waiting for their turn
Inability to stay organized
Overall, it's important to understand that ADHD is a real and legitimate disorder that can significantly impact an individual's life. With appropriate treatment and support, individuals with ADHD can lead successful and fulfilling lives.
For a better "Understanding ADHD", we designed a webinar for people who are interested in it. This is a single-session webinar and Dr. Kouorsh Edalati, Psychiatrist, Medical Director, FRCPC, will present. During this webinar, Dr. Edalati will talk about ADHD, potentials and challenges, Diagnosis, Treatments and etc. In the last part of this session, he will answer your questions for 15 minutes.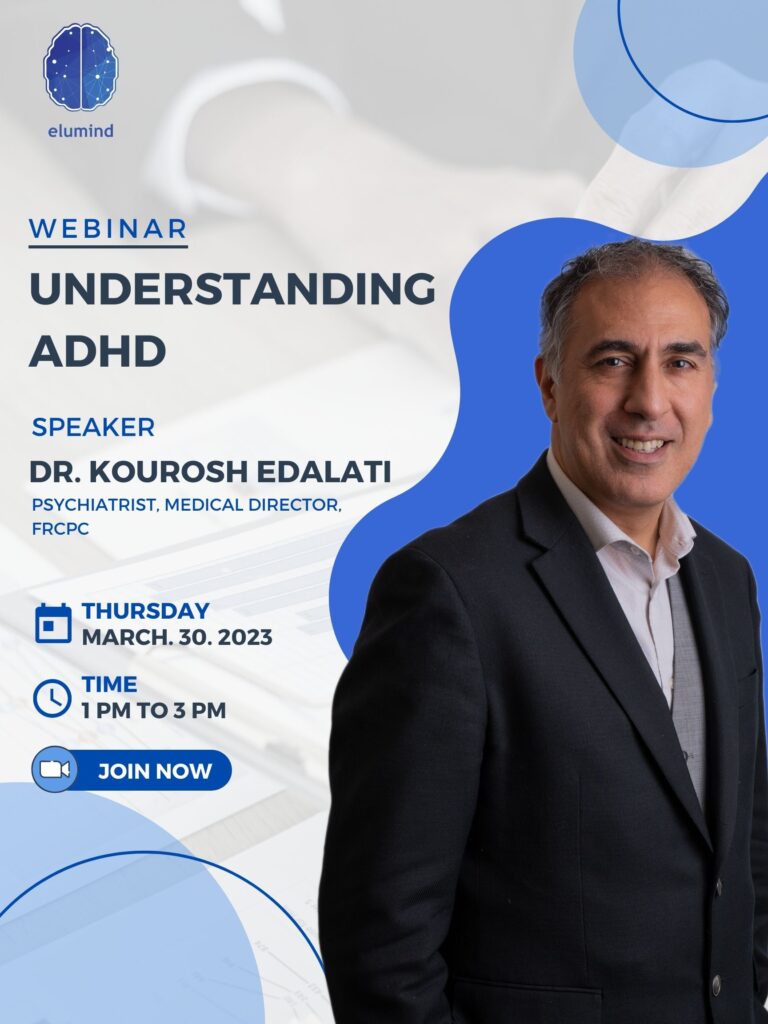 Enriching our knowledge of ADHD diagnosis, of the myths associated with it.

Creating the habits that support a healthy lifestyle.

Organizational skills 101

Learning stress-reduction techniques for a calm sense of self.

Treatment options for ADHD.
Dr. Kourosh Edalati founded Elumind to take brain health and therefore the health of the body to a whole new level with the vision of changing the way we live our lives forever. He is a psychiatry graduate from the University of British Columbia. He works in private practice working with a variety of mental health conditions.  Additionally, he worked at BC Children's Hospital in the Child and Family Clinic specializing in PTSD in children and adolescents. Dr. Edalati is also a clinical instructor for the department of psychiatry at the University of British Columbia.
He has completed all courses in Functional Medicine through the Institute of Functional Medicine and has been practicing integrative mental health using Functional Medicine principles. These are advanced courses in gastrointestinal health, detoxification, cardiometabolic health, immune system, hormonal balance, and finally bioenergetics. He is board certified in clinical hypnosis and is an active member of the board of the BC Clinical Society of Hypnosis.