Every once in a while, a break is essential. Social breaks are always fun but more often than not, all you may need is to catch a breath by yourself. It is a good self-care practice to take a break for your mental health. Here is a list of our favourite places (in no particular order) in the Greater Vancouver region. They are transit-accessible and pocket-friendly locations to visit oneself. 
Queen Elizabeth Park
Based in the heart of Vancouver, QE park is about 10 minutes' walking from Oakridge-41st or the King Edward Sky train on the Canada line. Queen Elizabeth Park boasts the Bloedel Birds Conservatory and is also the highest lookout point in Vancouver. The range of activities you can do here is well-suited for the needs of anyone trying to take a breather for their mental health. Among sports arenas there is a dog park, rose gardens, a community swimming pool, and more.
Lost Lagoon
Around the bend from Second Beach, the inner trail leads to this secluded waterbody. With the sky and trees reflecting on the water, it creates the perfect mirage of serenity. The stunning scenery is sure to make you feel calm and that calmness is great for your mental health. Accessible to most buses at a walking distance of 10 minutes, it is a great place for a quiet evening picnic.
Third Beach and Stanley Park Seawall
Probably the longest of the walks on this list, at a slow pace you'd be following the seawall for about 45 minutes to an hour easily. Walking is a great way to recharge your mental health. Since this beach is accessible only by car or foot, it is probably one of the most secluded in the downtown core. Summer sees different activities and energy here, however, otherwise, it is mostly secluded. 
The only downside or probably an upside for those looking for some me-time is that if it's 45 minutes to get there from English Bay, it is going to take the same amount of time to get back. You could also always take a walk around the entire Stanley Park seawall if you need a solid amount of time to think and are up for the walk. A walk for your mental health can still leave you physically exhausted and drained! Mid-way you won't find transportation back, so only go the distance if you would like to do the walk back or all the way around. 
You can choose to rent a bike and bike the entire seawall in an hour too. Biking is a form of exercising and hence a great way to get that serotonin in, perfect for a mental health getaway day trip or evening.
Lonsdale Quay
On the other side of downtown, after a 12-minute ride on the seabus, you can get to North Vancouver. A few steps away from the seabus terminus in the North, this quay boasts an indoor marketplace with local stores and a pier. The breathtaking view of the Vancouver skyline can never disappoint and is a must-visit if you haven't already. A long pier, quaint cafes, and outdoor seating make it a great way to observe the sun setting on the city, great for a mental health break. 
Trout Lake
A 10 minutes walk from either Commercial-Broadway or Nanaimo station on the Expo line will lead you to this oasis located centrally in Vancouver. This space boasts of a dog park and a long walkway wrapped around the lake area along with a verdant park. There are little to no benches around and most food places are a 10 minutes walk away. So pack a small picnic and lay down on the grass here to spend a day by yourself. The centralness of this lake make it the perfect place for a mid-day mental health break. 
University of British Columbia (UBC)
UBC is a site to visit in this city, even if you don't study here. Boasting a good mix of spaces both indoors and outdoors, it is perfect for any weather. Our favourites here are the student union building or the Nest, the bookstore, the rose garden, Wreck beach, the monuments of the time machine and the echo chamber, the Museum of Anthropology and the library. Bustling with life all the time, many of these social spaces may be busy. A walk around though will help you find a quiet spot to relax in solitude and get the mental health break you went there for.
UBC is directly connected by the 99 B-line on Broadway, R4 at Joyce and Oakridge, 49 at Metrotown and Langara-49th, and 14 from Waterfront, among a host of buses from other places.
Granville Island
If you've lived in the Greater Vancouver area, this is one island you've probably already visited. Juxtaposed with cityscapes and the artsy vibe of the district, you cannot go wrong taking a break for your mental health here. While the main public market closes around 6 pm, restaurants in the area are open until later. The long walk from Granville island to Olympic Village station or even Science World station is refreshing. Since it's a bay area, the winds aren't as strong, however being a water-side walk, it can still be colder than some of the other suggestions on this list. 
Lafarge Lake
Located at an end of the Millenium Line at the stop called Lafarge Lake Douglas, this spot is a tad bit more remote than the others. From downtown, it could take you over an hour to get to by transit. But are the breathtaking sceneries worth the trip up to there for your mental health rejuvenation? Absolutely!  
Ambleside Park
A favorite of West Vancouver, Ambleside is good for a long walk. Parts of Stanley Park, the Lower Mainland, and the Vancouver islands form the scenery from here. Because of the location, it is usually secluded. The walkway is similar to the one between Sunset bach and English bay with lesser crowd and lesser bustle in the background. A great location to soak in the peace of the ocean breeze for your mental health. 
Burnaby Lake
Another popular spot in the city is Burnaby Lake. A 20 minutes walk from the Millenium line station Lake City Way or accessible via busses from Metrotown and more. Nearby is the Burnaby Museum too and one can find a bunch of quaint restaurants to grab some lunch at as well. 
Burnaby Mountain
Better accessible by car or a mini hike from the bus stops, Burnaby mountain features great look-outs of the Lower Mainland and parts of North Vancouver from the height it is at. Picturesque Indian totem remains and a birds-eye view of the city make it an interesting spot for a mental health recharge break.
New West Minster Quay
Much like the North Vancouver Quay, the New West Quay is a hop skip, and jump away from New Westminster Sky train station. The market adjoins a water-facing walkway making for a serene evening walk and a great place for a mental health break.
White Rock
Another one of the spots that are further away than we would like it to be, is the White Rock pier. It is a great place for a getaway-contemplation-kind-of-evening to oneself mood and perfect to charge your mental health battery.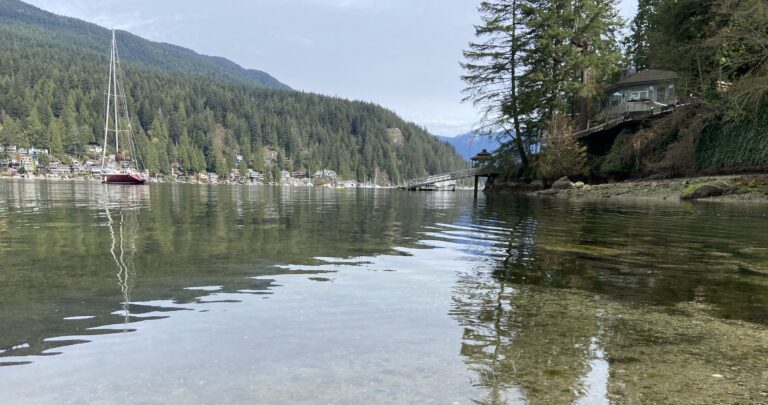 Deep Cove
One of our personal favorites, but probably the least accessible from our list here is Deep Cove. Based towards the east of North Vancouver, this is usually reachable via buses from downtown Vancouver. However, the frequency of these buses differs. Away from the hustle and bustle of the city, the bay is enclosed with a view of mountains flanking its sides. Famous for kayaking, paddle-boarding, and boating, the serenity is worth soaking in on a calm water activity for your mental health. While the location itself is known for its natural beauty, it also has some cute coffee shops and cafes. There are a couple of nature trails one can explore here too.
Coal Harbour and Gastown
While the cobbled streets of Gastown are great to soak in the historic feel of the city, walk straight out and you'd come to the contrast of it with sky-high cityscapes. As far as Gastown goes, you may not want to be on this side of town too late by yourself as most coffee shops close by 4 pm. Both locations are accessible via the Skytrain at the Waterfront station. 
We did not forget all the beaches! The city has so many to offer and you can take your pick based on your favorites. The best part about the Greater Vancouver Region is its many natural wonders, one can escape to. Be it hikes or lakes. So make the most of this and get out for a break.!
Elumind Centres for Brain Excellence is an integrated mental health centre offering solutions that can help you with your mental/brain health needs. To start your journey, book your FREE 15-MINUTE PHONE CONSULTATION. We are here for you.