As parents, ensuring the well-being of your child's mental health during the transition back to school is a crucial responsibility. The shift from a relaxed vacation schedule to the structured routines of school can create stress and anxiety for many children. However, with thoughtful strategies and open communication, you can provide the necessary support to help your child navigate this transition smoothly. In this article, we'll discuss practical ways to support your child's mental health as they return to school.
As children adjust and become acclimated to this new educational environment, there are uncertainties regarding how this unique environment will affect the long-term mental health of children. So how can parents ensure the health and success of their children? How can parents ensure that their children are able to manage their mental and physical well-being? What kinds of behaviors or signs can parents look for regarding their child's mental health?
How the Changes in School May Affect Students' Social Development
School is a crucial environment for children to learn, engage, collaborate, and become educated on a variety of crucial topics that they will take with them beyond their education lives. What children learn in school, they carry with them, in most cases into adulthood when they begin to discover what they want to do with their lives. Of course, for many of you parents out there, it will be some time before they will be at that point where they must decide on their career paths so don't reminisce about their childhoods just yet. Nonetheless, as children begin to form education and develop as humans, there is another equally important aspect of schooling that often gets overlooked. That is Social Development.
School is not only a place to receive a formal education; it is also a place where children learn necessary social clues, where they learn how to interact and engage with one another, how to play and share, how to learn accepted and undesirable behaviors, how to understand and regulate their emotions, and so on. Social development is critical to a child's mental health as well. It enhances their lives and will be crucial come their teenage years and beyond. For these reasons, as students continue with their schooling amidst the coronavirus pandemic, it is critical that children continue to be able to receive the necessities when it comes to their social development.
It is easier than ever before for children to become isolated from one another and to end up being more solitary as a result of the health regulations and precautions put in place at their schools. Ensuring that your child is receiving the proper social development will also go a long way in their long-term mental health and will decrease the likelihood of future social or mental difficulties.
How can you help your child with their Social Development?
One way to take a proactive approach is to engage with your child more than ever. Ask them about their day at school, if they met anyone interesting, and what they did at recess. At the same time, try and spend more time with your child, interact with them whenever you can in a social (but distanced) setting, or engage with them in a variety of activities and games. As your child develops social skills at school, they can also continue to learn these skills at home. And as a parent, you can help them with that. Not only will this help your child, but it may help you as well.
Playing charades or Apples to Apples with your child will likely help their mood and their understanding of the world, but it may also give you an opportunity to connect with your child more than you have. Another way is to try and maintain a lifestyle for both you and your child that resembles normal pre-pandemic life as much as possible. While this may be difficult during a pandemic, there are still things you can do to make life seem as normal as possible to your child. What you can do will depend on your province's regulations for pandemic regulations and social distancing guidelines.
Have your child join after-school programs, classes, or sports, if they aren't doing so already, and if it is safe to do so. I'm sure many of you have experienced those Saturday mornings standing in the torrential rain watching your child play soccer while you and the other parents shout and encourage them along the field. Such an experience, while it may be slightly uncomfortable for you as a parent, is invaluable for your child's development as they learn the rules of the game and communicate with their teammates. Additionally, allow for play dates with their friends (ensuring social distancing and mask-wearing when necessary). And allow safe and monitored access to online discussion and/or online video games with their friends. Taking the initiative in making these changes and additions will likely ensure that your child is receiving the necessary social development that they may not be fully experienced at school, whilst also helping your child's mental health, both in the short and long term.
How to Know if Your Child Has Heightened Levels of Stress and Anxiety
With schools back in session, it can be a stressful time for students returning to school. In some cases, children may have been directly affected by the COVID-19 virus, and even if they haven't, it's quite possible that they've heard about it on the news, or from others around them. Children have everyday Stress and Anxiety, just as adults do. It is normal for your child to have worries or thoughts that are bothering them. That being said, the pandemic has added an additional layer of worry that is unprecedented. This added layer of anxiety is something that neither children nor parents could have prepared for. Being a child can be scary and intimidating.
Think back to the scenario of imagining yourself as a six-year-old entering your first day of the school year. You feel nervous as you get on the school bus, and you worry as you sit down that your mask will fall off and the police will arrest you. You may worry that your mask is ugly and that no one will want to play with you. These are potential scenarios of concerns that your child may experience under COVID-19, and such concerns could lead to heightened anxiety and stress. As mentioned by Kids Help Phone, 8 out of every 10 students were facing back-to-school anxiety in regards to returning to school. Additionally, many children were also worried about being isolated and alone while dealing with their mental health. While this may sound quite concerning, there are ways to address the fears and anxieties that your child may be facing.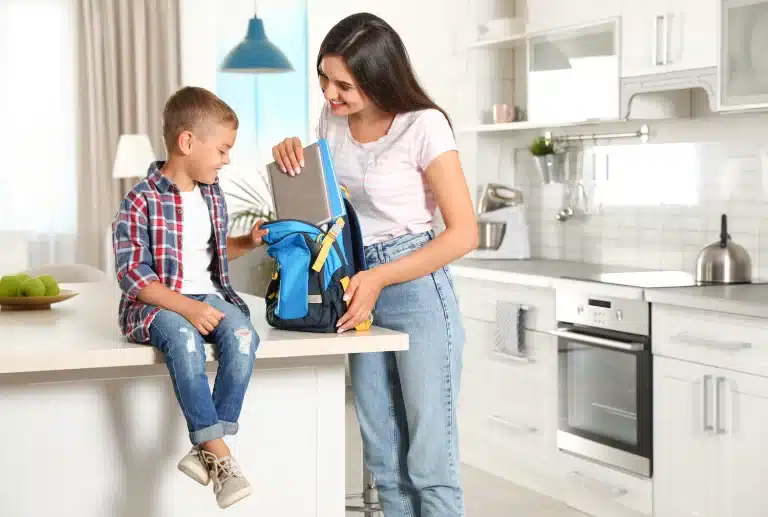 So, what can you do?
The best way of reducing the amount of stress and exertion on your child is to talk to them. Discuss the virus with your child if you haven't done so already. Inform and educate them. For example, if your child is worried about going to school every day, talk to them. Let them know that their school has put in several safety measures to ensure the safety of all students, staff, and faculty. Remind them of the importance of washing their hands as regularly as they can to prevent the spread of the virus. Wearing masks can be an added frustration for children, as they struggle to ensure that their mask is securely fastened while in the hallways, or as they play outside at recess or lunch. Empathize with them. Let them know that you understand that it's not easy, but that continuing to wear masks and other safety equipment when necessary is important in combatting and maintaining the virus. A lot of what you tell your child will be about transparency. Tell them the facts and educate them. But don't stop there. Be active and watchful with your child. Look for the signs. Is your child exhibiting changes in behavior? Are they keeping to themselves more? Are they exhibiting a decrease in appetite? Are they portraying sudden, unexpected bursts of anger?
If so, address these behaviors. Lightly talk to them and see if you can understand what is going on. If you do this, ensure that you are not probing too deeply. If your child is struggling internally, this could cause them to withdraw more. Be patient and go at their pace. All children handle stress and anxiety in different ways, and it is important to watch out for any abnormal mood changes or emotional swings. At the same time, not all students will overtly show signs that they are struggling. Talk to your child regularly, and ask them about their day, who they met today, and what they learned today. Simply talking to them may lead to them opening up about any problems or issues that they may be experiencing.
What Else Can You Do?
Many of these strategies, while they may help your child, may only scratch the surface in dealing with your child's anxiety. In many cases, deeper analysis and support may be necessary to combat their heightened emotions and changes in their behavior. So, what other solutions are there? In addition to talking to your child and looking for the signs of heightened stress and anxiety, there are a variety of proven, clinical methods in treating your child's heightened pandemic Anxiety.
Neurofeedback is a specialized form of brain therapy that trains your brain to become more flexible, calm, and therefore resilient against anxiety. Neurofeedback allows your child to activate self-regulation so that they can manage their emotions more effectively. Biofeedback is a form of therapy that calms your nervous system by reducing its overactivity. Additionally, other treatments that we recommend in dealing with anxiety and stress for your child are different forms of counselling that can bring up the child's anxiety and give the child the tools to deal with the effects of this anxiety. Furthermore, a resilient nervous system is one that is well-nourished and nutrition counselling can help you understand your child's nutrition profile and how it can be managed. If you need support in helping your child with their mental health as they make their way through the school year, we at Elumind are here to help. If you would like to schedule an appointment with our client care coordinator, she would be more than happy to talk with you.