Credit Medical is a private lender providing affordable loans for treatments generally not covered by insurance providers. They provide funding for non-medical and non-invasive treatment. As for Elumind, funding received from them can cover Neurofeedback treatments, Transcranial Magnetic Stimulation (TMS) treatments, QEEG Brain Mapping, Functional Medicine, and more. These treatments address a host of conditions like that Anxiety, Depression, Attention Deficit Hyperactive Disorder (ADHD), Memory and Sleep Disorders, Obsessive Compulsive Disorder (OCD), Post Traumatic Stress Disorder (PTSD),  Traumatic Brain Injuries, and more. 
How to apply?
Credit Medical offers fully-open Personal Term Loans of up to $20,000, with repayment terms of up to 60 months. If you are considering borrowing only a portion of the treatment amount, Credit Medical can finance a minimum of $1000, and send payment directly to your physician, usually between 1 and 4 weeks prior to your procedure.
To apply for Credit Medical financing:
Fill out the online application form, or call Credit Medical at 1-800-270-9290, and one of their representatives can help you fill out a free application. No down payments or collateral are necessary for your loan. All you will need is an established credit history in good standing. Moreover, the interest rates established at the beginning are fixed throughout the full term of your loan. If you do not have a credit history, your co-borrowers credit history is eligible for approval, and they would also assume liability for the loan. You need to apply for your loan before your co-borrower submits a co-borrower application.
Once your application is pre-approved, we will require a valid, government-issued photo ID, proof of income and employment, and verification of banking information to support your application. During the application process, you will be asked to connect your banking information, or in some cases send a Void cheque to Credit Medical. Your account will be automatically debited in equal and affordable amounts, according to the terms of your loan. Your loan can be pre-approved before you book a date for your treatment. 
Financing with Credit Medical doesn't tie up your credit, giving you the freedom to spend as you normally would. The loans have fixed terms and payment amounts, unlike credit cards that have compound interest. All Credit Medical loans are fully open and can be paid out at any time before the end of the term without any penalties. 
Learn more about Credit Financial and the procedures they cover here: https://creditmedical.com/procedures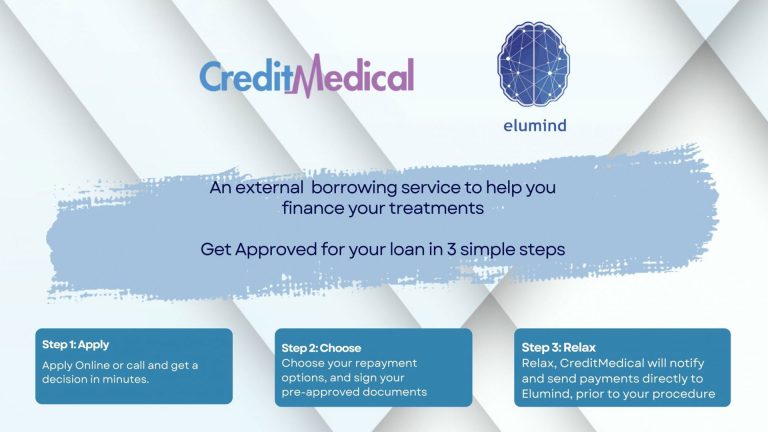 Elumind Centres for Brain Excellence is an integrated mental health centre offering solutions that can help you with your mental/brain health needs. To start your journey, book your FREE 15-MINUTE PHONE CONSULTATION. We are here for you.